NYA has made efforts to incorporate Alumni into its team of employees to harness the experience and perspective Alumni can bring to the organization. Alumni staff members are able to contribute greatly to NYA as they have experienced the program first hand. This is also a way in which NYA is able to provide job opportunities and work experience to our Alumni. NYA's Alumni Staff Members have included Karen Aglukark of Arviat, NU, Elena Kataluk of Coral Harbour, NU, and April Akeeagok of Grise Fiord, NU.
Karen Aglukark
Karen's NYA journey began in 2007 when she was placed in Orleans, Ontario for the Canadian Phase of the program. The following year, Karen travelled to Shakawe, Botswana with NYA's International Program. That fall, Karen enrolled in Carleton University's Bachelor of Humanities program, working part-time throughout her studies. Karen became a research assistant for a linguistics professor undertaking a project to analyze Inuktitut language attrition and later worked as a youth coordinator for Inuit Tapiriit Kanatami. She also worked as a summer student for the Government of Nunavut in the Curriculum and Secondary Services Section in her hometown of Arviat. Since graduating from Carleton University in 2013, Karen has moved to Iqaluit where she works as a Research Analyst for the Legislative Assembly of Nunavut.
Karen's dedication to NYA has been constant since she first participated in the program. After two consecutive years as a participant, Karen joined the NYA team as its first Alumni Staff Member in the fall of 2009. After completing a full program cycle as a staff member, Karen's role shifted within the organization as she was nominated and appointed as an Alumni Member of NYA's Board of Directors in 2010. Throughout her time as a Board Member, Karen has contributed to the program in a multitude of ways that go beyond the expectations of Board Members. She has volunteered for NYA's Selection Committee for a number of years, has been a facilitator at NYA's Orientation and Re-Orientation camps each year since 2011, has volunteered for NYA's Interview Committee and has recently become a Mentor to a 2015 NYA Participant. In 2015, Karen was appointed Chairperson of NYA's Board of Directors, becoming the first Alumni of the program to fill this role. Karen's commitment and dedication to NYA and her status as a leader and role model for young people was honored in 2011 when she was awarded NYA's Outstanding Alumni Award.
Elena Kataluk
Having completed the Canadian Program in 2009, Elena joined the NYA team as an Alumni Staff Member 3 years later in 2012. She became a great leader and role model for Participants throughout the summer as she had been in their shoes only a few years earlier. Elena assisted the team with preparations in the months leading up to the summer programming and became a valuable team member. As an Inuktitut speaker, Elena was able to facilitate communications between some Participants and parents less comfortable speaking in English. Throughout the summer, Elena was involved with NYA's Orientation and Re-Orientation camps as well as program delivery and support. Upon departing NYA, Elena returned to her home community of Coral Harbour and has since moved to Iqaluit for work.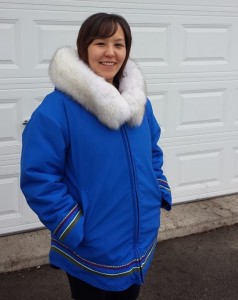 April Akeeagok
April is from the small community of Grise Fiord, Nunavut. First participating in NYA in 2005, she traveled to Botswana the following summer with the International Program. April moved to Ottawa in 2013 to join the NYA team as an Alumni Staff Member. April coordinated NYA's Alumni Services and provided general program support. Since working at NYA April has remained in Ottawa raising her three children and working with organizations offering support to Nunavummiut.