Hi my name is Jame Duncan and I'm from Rankin Inlet, Nunavut. I am currently 18 years old and am doing the NYA NEXT Program!
In this program I have had the opportunity to see a lot of the beautiful city of Ottawa and particularly have enjoying visiting Parliament Hill. Our group is currently living on residence at Algonquin Collage and we have been taking a lot interesting classes including construction class. In this class I learned how to make a picture frame and am currently working towards completing a dog house. I'm really enjoying these classes and learning a lot from them.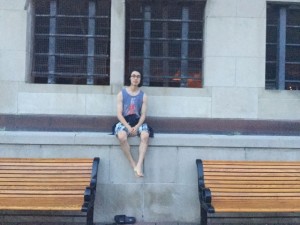 One of my favorite things I've done while in Ottawa is enjoy a beaver tail which is a delicious pastry with different toppings on it depending on which kind you get. I got the Oreo flavored beaver tail and strongly recommend it.
One weekend we went camping and got the chance to go canoeing and swimming which was a lot of fun. My friend DJ and I also played volleyball on the trip with a group of people that were already playing and let us join. Both of us really enjoyed playing and the people we played with were super nice.
I'm looking forward to visiting Montreal and going back to camp for re-orientation to see all the other participants in the NYA program. I am also looking forward to completing the program and going home to share all my experience with friends and family.