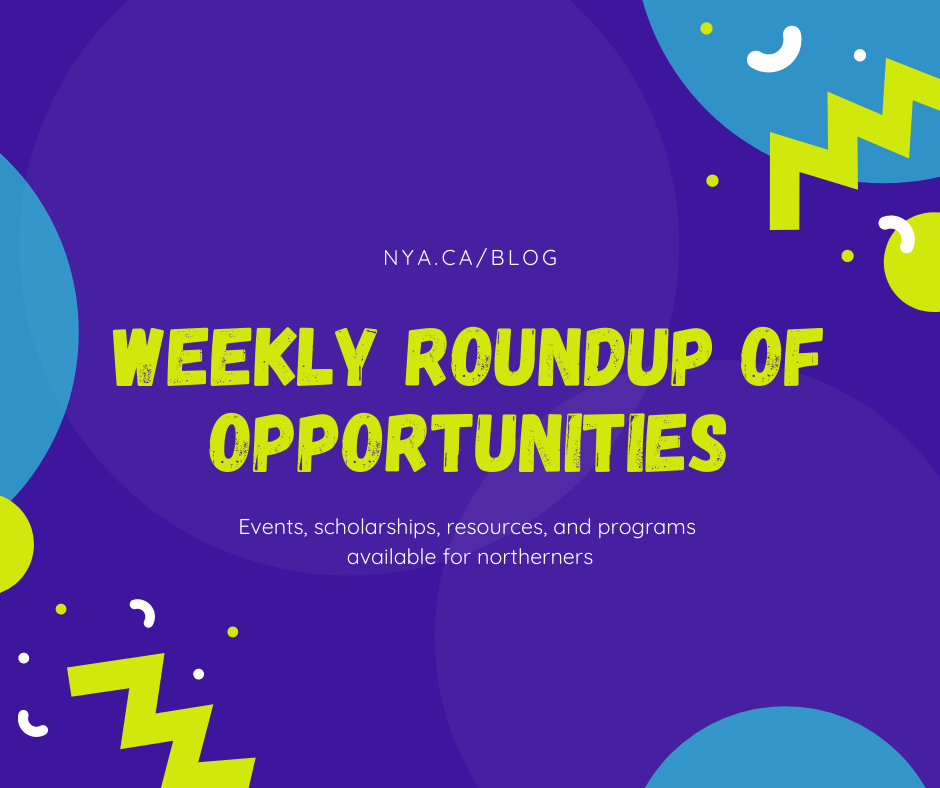 Written by Topsy Banksland
Good Day Everyone!
NYA has started up a "Weekly Summary of Opportunities" which is all the newest opportunities we've come across. With the information easily accessible, this document includes things such as scholarships, events, and youth programs and initiatives of different varieties.
View all of this week's opportunities by clicking here.
Here are a few right now with deadlines coming up this month.
Northern Youth in Service
Who For?: Youth (groups, individuals or networks) ages 14-25 from NWT, NU, or YT
Applications due: July 15, 2020
Start a project in your community! It can be any project, if you can think of it, we can help make it a reality. Each participant gets at least $500 in funding, and gets on-on-one support to finish the project. Past projects have included hunting groups, youth committees, arts groups, events, sewing projects, projects related to technology, the environment, and leadership!
Visible Vault Digital Stories
Who for?: Inuit Filmmakers and Videographers
Date/deadline: Submit a video on or before July 17, 2020
The WAG Inuit Art Centre is accepting topic submissions for 3-5 min. Videos that:
• Feature stories about Inuit art, culture, history, language, and life in the Arctic.
• Highlight perspectives of Inuit artists, Elders, knowledge keepers, storytellers, youth and community members.
• Minimum honorarium for each video is $500. Download the application package here and submit it on or before July 17, 2020
The Annual Youth Forum: National Association of Friendship Centres
Who for?: Indigenous youth ages 14 to 24 from across Canada
Date/deadline: July 24-25, 2020
The Annual Youth Forum (July 24-25, 2020) will be virtual for the first time in 31 years in response to the coronavirus pandemic. L welcomes all, and all indigenous youth ages 14 to 24 from across Canada, to the 31th Annual Virtual Youth Forum, to be held on a secure Zoom platform .. This year's theme is "Indigenous youth and their minds".
More Opportunities
I (Topsy) will be doing more of the Weekly Summary of Opportunities, so expect more in the next coming weeks!
If you have any opportunities relevant for northern youth, please feel free to contact me at Topsy@nya.ca 🙂