Support for Northerners
Right now the Northern Compass team is working with students and youth from across the territories (Nunavut, NWT, and Yukon) to get the resources, guidance, and support they need to be successful in their next transitions.
Sign up now!
Use the button below to access Northern Compass support. If you're thinking about school for the Fall 2021 semester, sign up soon! Now is the time to start applying and getting ready.
Sign Up
Ways Northern Compass can help
Offer you individual support to make decisions about school, career, or next steps,
If you are in high school help you understand academic requirements that match your goals,
Help you explore all the pathways available to you,
Connect you to resources like textbooks, materials, supplies, and tech,
Find you tutors and academic support,
Connect you with scholarships, bursaries, and help you navigate funding,
Help you make decisions around remote starts for students, and set you up to make the transition to online learning easier,
Invite you to a network of other northerners in your shoes – be part of our community supporting northern success!
If you think that Northern Compass can help you or if you aren't sure where to look, fill out the form by clicking on the link below we will be in touch! You can also email northerncompass@nya.ca
News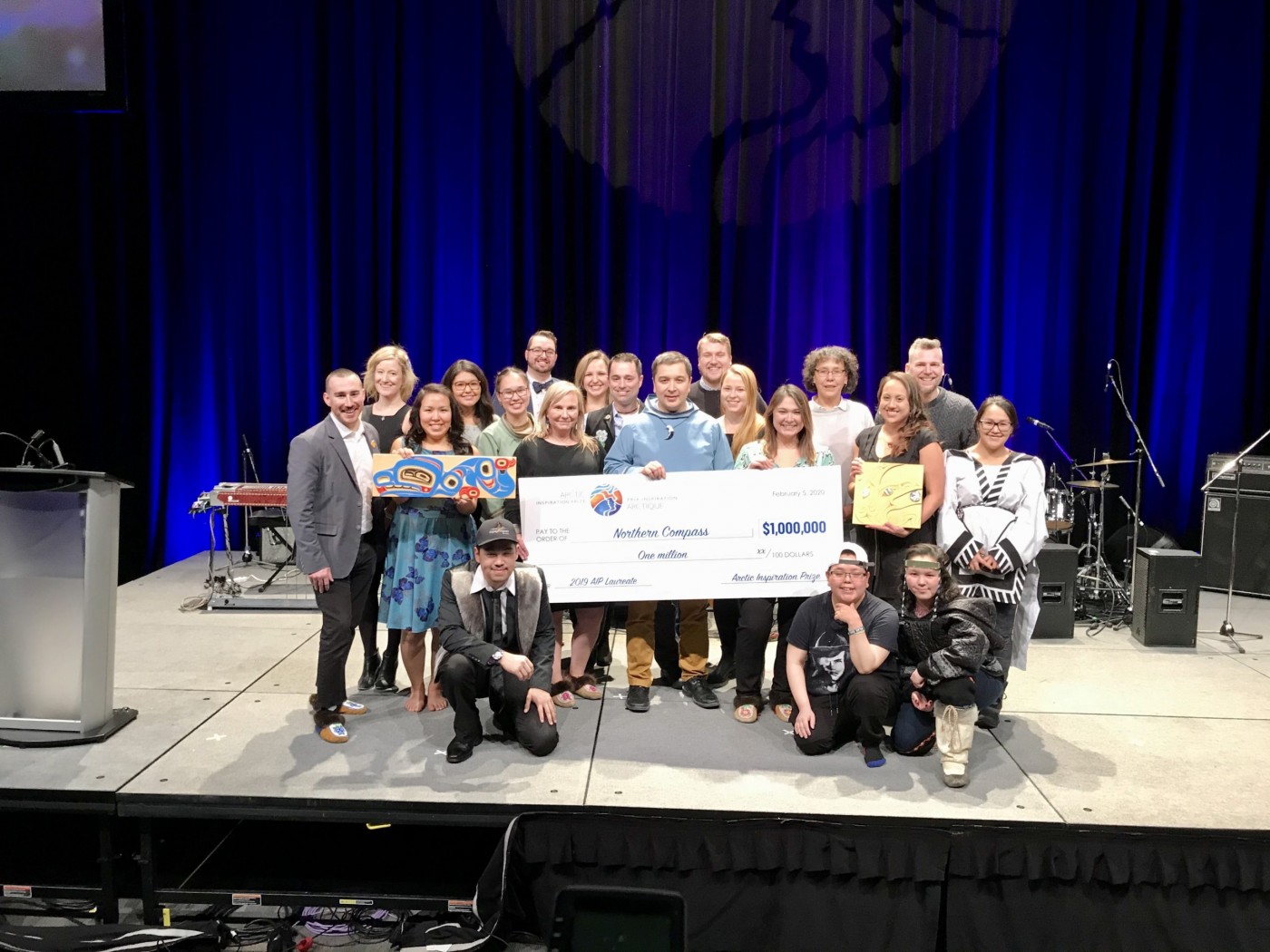 On Wednesday, February 5th, 2020 we were so excited that Northern Compass, a project developed by a team close to the NYA Network, was officially announced as a 2019 Arctic Inspiration Prize Laureate! We were fortunate that one of our presenters of the award was NYA Alumna Mumilaaq Qaqqaq and to celebrate with so many amazing supporters of the project.
We are also so happy to share that a project called Trades of Tradition led by a number of NYA Alumni is an AIP Laureate in the youth category. They were presented the award by another NYA Alumna Topsy Banksland.
Thank you so much to all the team, supporters, partners, and volunteers who have been so supportive throughout the whole nomination process. Congratulations to all the finalists and the other Laureates this year!
About the Project
Vision: Dramatically increased achievement among Northerners pursuing their education and career goals after high school, enabling them to become full participants in their communities and beyond.
Northern Compass will achieve this vision by: providing semi-supported activities, tools, and resources helping youth be better prepared for and able to navigate the systems in place; helping youth build connections and a sense of community should they need to travel away from home; and provide accessible and relevant resources with information on funding, housing, budgeting and other areas related to student success
Will build a comprehensive, central system developed specifically for Northern youth that bridges the transition to PSE and beyond.
The project will work to motivate youth to graduate high school, make informed decisions about their future, and provide the support and increase access to training and programs that allow Northern youth to pursue and achieve their goals.
Northern compass will implement: transition supports, an information toolbox, Northern Achievement coaches, a network of volunteers and role models, a variety of hub networks of Northern students, and campus tours for Northerners.
This will be achieved by: being Northern led, addressing the specific and unique needs of the North, utilizing extensive knowledge and experience of a diverse project team, leveraging existing resources, cultivating reciprocal and mutually beneficial relationships, and placing value on all pathways.
This is needed because it's time for Northern youth to have equitable access to all opportunities, to feel confident, and supported in their choices, and to excel in any pathway they choose. A strong, prosperous, healthy North relies on creating opportunities for young people to feel prepared, hopeful, and ready to take on every challenge.
The Team
Team Leaders
Team Leads Jim Snider, Karen Aglukark, Lois Philipp, Rebecca Bisson
Project Team
Project Team: Art Sateana, Bradley Thom, Cecile Lyall, Giselle M. Marion, Janelle Wilson, Jon Holmes, Patricia MacNeil, Rebecca Plotner, Shirley Peterson
Project Nominator
The Honourable David Joanasie, Minister of Education, Minister of Culture and Heritage, Minister of Languages, Legislative Assembly of Nunavut. Minister Joanasie is also an alumnus of Northern Youth Abroad.
Partners
Northern Compass, while still in its early stages of development, is fortunate to have the support of a number of partner contributors:
Additionally, the project nomination was grateful to receive letters of support for this project from:
Tom Weegar, President, Aurora College
Nancy A. Edgecombe, Manager, Nursing and Health Sciences, Nunavut Arctic College
The Honourable Shane Thompson, Minister of Environment and Natural Resources, Lands, Minister Responsible for Youth, Minister Responsible for Seniors, Minister Responsible for Northwest Territories Power Corporation, Legislative Assembly of Northwest Territories
Aluki Kotierk, President, Nunavut Tunngavik Incorporated
Alfred Moses, former Minister of the Legislative Assembly of the Northwest Territories
Eva Groves, Youth Program Manager for the Baffin (Qikiqtani) Region, Kakivak Association
Madeline Kaludjak, Acting Executive Director, Kivalliq Inuit Association
Fred Pederson, Acting Executive Director, Kitimeot Inuit Association
Brenda Baton, ASETS Coordinator, Sahtu Dene Council
Kristen Everett, Vice President Programs Student Success, Indspire
Jeffrey Phillip, Founder & CEO, SSi Micro
Denise M. Cooper, Educator
Patricia Wedawin, Northern Youth Abroad Alumna
Hayley Totalik, Northern Youth Abroad Alumna