Never in a million years did I believe I would get the chance to work abroad for 3 months. When I received the call to say I had earned the opportunity to move across to Canada for 3 months to work with Northern Youth Abroad I was in shock, there was so much disbelief in that I had been selected to go and work with Youth from Northern Canada.
The lead up to the big move was quite quick and rather daunting, I was leaving my job's which I love (AIME and St John's The Evangelist Catholic High School), Leaving the sport I love (Netball) and most of all leaving my friends & family. I was about to travel into the unknown, I had zero knowledge of Canada and nor did I know the struggles that their youth face, but I was prepared to make this step and contribute my own learnings from back here in Australia and I was ready to learn everything I possibly could from my new team at Northern Youth Abroad.
Making the move to Canada was the scariest thing I have ever done, when I arrived at the Ottawa airport I was greeted warmly by the Northern Youth Abroad (NYA) staff. They took me out for lunch and then showed me to my new home at Algonquin College residence. The first thing to take over was my emotion, being in a new country across the world just brought on so many tears of joy and I was in disbelief, sometimes I feel I needed to be pinched just to make sure it was real. My first weekend was spent touring down town Ottawa, where the Northern Youth Abroad staff showed me around. I was still learning the currency and adjusting to seeing people driving on the opposite side of the road.
On the following Monday from me arriving it was my first day in NYA's office as a staff member. I was introduced to all the staff who were so welcoming, you felt the warmth as you walked in. I was then given an orientation and was ready to learn. NYA's works with youth from Nunavut and Northwest Territories, which are the most Northern territories in Canada. I had no knowledge of these areas the staff had showed me on a map where it was, and we had discussions for hours. It isn't an easy task learning about another country, and then also understanding what it is I am here to do and contribute to with the youth.  In the office I was given the task of organizing orientation supplies and planning sports and recreation activities for the youth to participate in at their orientation camp. I was also tasked with reading the curriculum and understanding and editing where necessary. I also got to coordinate the international teams travel and itinerary which was great.
The kids arrived for camp on the 28thof June, It was one of the warmest summers Canada has ever had, hitting a high of about 49 degrees while we were at camp. Camp was at Macskimming, an old pioneer village just outside of Ottawa, we had youth coming down from their home communities where it was about minus 40 degrees in some cases, still having ice covering the land. For me the heat was sometimes tough to handle, you're working from 7am to almost 1 am every day, they seem like such long hours, but it goes really quickly.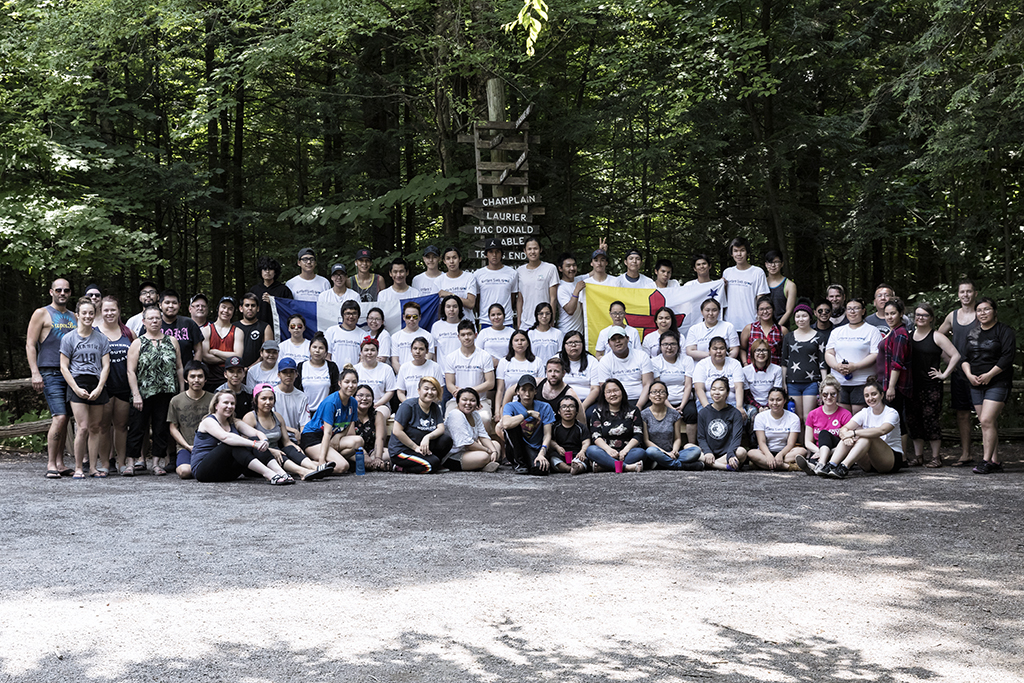 The time had come to meet the youth, I was super excited to see all their faces, we had been talking to them for weeks and it was nice to finally put a face to their names. The youth arrived at all different times, so for about two or three days we spent time travelling to and from the airport to pick up over 58 participants of the programs, and also volunteers and alumni of the program who come and facilitate sessions for the youth before they head out on their 5 week placements either doing volunteer work placements in host communities across Canada, studying construction for 5 weeks at Algonquin College or travelling to Costa Rica to complete a program there.
Orientation was one of the most amazing experiences of my time here, we were super busy preparing meals for the youth, ensuring they were all well taken care of in the heat and being someone for them to talk to. I was fortunate enough to get to run sports for the youth, this gave me a chance to chat with them and learn more about their stories and share some of mine. This week was full of excitement, I had been homesick a week before we came to camp, and this had really lifted my spirits. The youth were so open and willing to share, I did spend a lot of time asking questions and getting to know them personally, I wanted to find out similarities and differences between our cultures. I also wanted to make sure I could communicate with them effectively and support them in any way possible to the best of my ability.
Half way through the week I actually got the chance to facilitate, I got to run the sessions for 12 youth and really support them. In this experience we got to discuss what it was to be a leader, being a positive role model for your community and also how to handle being away from home. I was currently still on the journey of being away from home, I had experienced home sickness and had some low points, so I was happy to share ways to help yourself out of these moments and to also hear ideas from the youth in case it happened to me again. It also gave the youth a chance to share with each other what they were going through and why they are participating in NYA's program. We shared what we were most looking forward to for the summer and discussed some challenges we may face being in a new environment.
Through the week the youth did presentations on their province/territories, we had a Nunavut night and a North West Territories night. A big WOW for me was the size of the communities these youth came from, some only having 100 people or less living in their communities, and some communities are only fly in/fly out communities, having no roads to link them to another community. I was utterly amazed both nights at the culture that was still alive in these communities, It brought up so much emotion from within to see this living on. These youth were so strong in their culture and what was amazing was their willingness to share this with everybody at camp who were people they had never met before. I was introduced to throat singing, arm pull, games from the arctic winter games and hand games. I could not believe the hand games, the boys playing this while beating their drums and singing their songs, this was amazing. The boys even offered me a chance to learn these games and shared their culture with me, allowing me to play alongside them. Upon learning these games, I was shown the cheek that comes along with the game, this was such a unique experience. I was extremely grateful for their generosity and could not have been afforded such an amazing opportunity if it wasn't for the exchange between AIME and NYA.
At the end of the week the youth were heading off to their placements where we wouldn't see them for 5 weeks. I was fortunate enough to have 16 of the youth stay at the college where I was to complete their construction course and also have other sessions involving science and a week of law training. I was working closely with their group leaders ensuring that the youth could reach their full potential while in this program. I was involved in their study hall and let's talk science sessions supporting them in completing their assessments. Over the course of the 5 weeks I got to spend a lot of times outside of work with the youth, we went swimming, visited museums and parliament house. They spent time showing me games and teaching me one of their languages from Nunavut (Inuktitut). We went to Montreal which was beautiful, and we spent time at the holocaust museum and got to speak to a survivor of the holocaust. I was afforded so many opportunities working with the group, I cannot thank NYA enough for the experience they gave me.
I was also given the opportunity to attend the Inaugural Master's Indigenous Games in Toronto. The games were for Indigenous people from all across the world, It hopes to expand and get more involvement from all Indigenous people across the world. I was even given the opportunity to hand out medals at the medal ceremony for the events the athletes competed in, I don't know how I was so fortunate. Whilst there I got to attend a Pow-Wow, A gathering of Indigenous people showing off their traditional clothing and dancing together, It was a real moment for me, I was overwhelmed with emotion, seeing this event and being a part of it. The culture here is amazing, much like my own culture back home. I fell in love with it here, I couldn't believe what I got to be a part of in this country.
I also got to travel to Nova Scotia (the east coast of Canada) to do host family visits. This involved us checking in on participants at their work placements and meeting with their host families. What an amazing experience this was, every step of the way I was always so grateful. Seeing the youth flourishing at their work places and seeing where they were living on the east coast. I got to visit some absolutely mesmerizing places, Antigonish and Halifax were so beautiful. Close to the Atlantic Ocean so I made sure to go visit it, I hadn't seen the ocean since moving to Canada. Granted I did not swim as the water was really cold, It could have just been the weather though as it started raining as soon as we got to the beach. This also really made me think about and develop a new-found appreciation for where I come from and the place I call home, coming to the ocean is a very difficult thing for most people, however I live on the south coast next to some of the most beautiful beaches in the world, and for this I am forever grateful.
So then came our Reorientation camp, it was about 20 degrees cooler each day, and a much more relaxed experience with the youth. During this camp I was facilitating again, where we talked about everyone's experience in their work placements and host communities. We had to revisit leadership and gave the youth opportunities to lead activities within our group, whilst also preparing them for their return to their home communities. This was a very emotional week for me, it was the last week that I would possibly ever see the youth. I enjoyed every moment listening to their stories, being a part of their activities and getting to lead their sessions. I had a real connection with the youth, it is amazing how people from across the globe can come together so much. We had a closing ceremony at the end of the week where everyone was afforded the opportunity to speak and inspire each other around the camp fire, we linked together in a big circle and listened to each other speak warmly about each other and reiterating that we are a family, and to never forget what we do here. To see youth be so strong and encouraging in their words was so amazing and empowering, I was overwhelmed with passion and belief from this experience, it just reaffirmed my passion for working with youth, and how I know this is what I will do forever, whether it be working in high schools, working with AIME or travelling abroad with programs like NYA.
Coming to Canada I had seen pictures of the remarkable landscapes and views, but it was the people and the culture I fell in love with. I have spoken a lot about my experience with the youth, but the real family experience started with the NYA staff, who are now my good friends. I have made life-long friends here, and already have travel plans arranged to see them all again. If it wasn't for their willingness and openness with me, my time would have been very different. NYA is a family and I am so grateful to be a part of it.